Why PIAGGIO VIETNAM?
At a glance, we have made important advances in the development of PIAGGIO Group in general and PIAGGIO Vietnam in particular. Our philosophy is to bring the best development policies together with our commitment to our employees as well as our customers.

PIAGGIO Group was established in 1884, it is Europe's largest scooter and motorcycle manufacturer and one of the world leaders in its sector. The headquarter is located in Pontedera (Italy). In the last few years, the Group has been implementing an intensive international expansion program, to become a world player in its field.  The total worldwide workforce of PIAGGIO Group is 8000+ employees .                                                                                                                                                              
PIAGGIO Vietnam Co., Ltd (PVN) is 100% Italian capital from European leader as manufacturer of two - wheel motor vehicles. We hold leading role in scooter market in Vietnam. The company is located in Binh Xuyen Industrial Zone, Vinh Phuc province which has been granted the Investment License in October, 2007. PVN now becomes strategy market of PIAGGIO group and operating as the head quarter of Asia Pacific with a steady growth, affirming the leading in the scooter market. 
On a production level, a new engine plant is scheduled to start up in early 2012 and capacity og the site in Vietnam will be expanded.
With more than 800 employees, PVN is the Group's third-largest production operation, after Pontedera in the Italian province of Pisa, and Baramati ( in the State of Maharashtra, the production site of its Indian arm, PIAGGIO Vehicles Privates Ltd.). 
PIAGGIO Vietnam has been listed in the top 100 best places to work in 5 consecutive years, from 2014 to 2018, also ranked no. 5 in the automobile and auto components industries.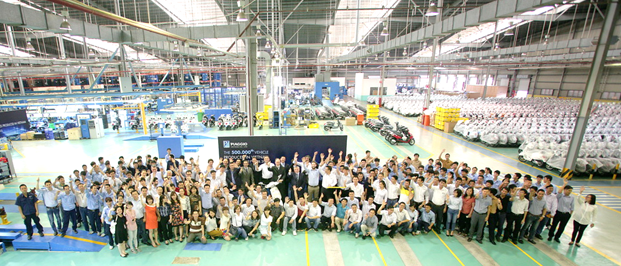 [PIAGGIO VIỆT NAM] THỰC TẬP SINH TÀI NĂNG 2019!


Hãy đăng ký ngay tại
http://piaggiovietnamcareers.com/
để có cơ hội trở thành nhân tài của PIAGGIO - top 100 nơi làm việc tốt nhất tại Việt Nam!!!
TALENT INTERNSHIP PROGRAM 2019 - CUỘC ĐUA DÀNH CHO NHỮNG BẠN TRẺ DÁM KHÁC BIỆT!!!
Đừng bỏ lỡ cơ hội hấp dẫn này: Chương trình Thực tập Tài năng thường niên tại PIAGGIO VIETNAM (PVN) đã quay trở lại!!!
Đây sẽ là hành trình khám phá bản thân đầy thử thách và thú vị, dành cho những bạn trẻ nhiệt huyết, năng động, cá tính, và luôn sẵn sàng để bứt phá trong lộ trình nghề nghiệp.
Chỉ những bản CV khác biệt nhất trong số hàng trăm ứng viên sẽ có cơ hội để:
✔ Trải nghiệm môi trường làm việc chuyên nghiệp và văn hóa nội bộ tuyệt vời tại PVN - Top 100 Vietnam Best Places To Work 2013 - 2018.
✔ Được đào tạo và phát triển bản thân trong một đội ngũ chuyên nghiệp, cởi mở, trẻ trung, cá tính và sáng tạo.
✔ Lựa chọn 1 trong 10 phòng ban phù hợp với năng lực và sở trường.
✔ Chế độ lương, thưởng cạnh tranh.
✔ Cơ hội được tuyển dụng chính thức sau thực tập.
Chặng đường chinh phục 𝗧𝗔𝗟𝗘𝗡𝗧 𝗜𝗡𝗧𝗘𝗥𝗡𝗦𝗛𝗜𝗣 𝗣𝗥𝗢𝗚𝗥𝗔𝗠 𝟮𝟬𝟭𝟵 sẽ trải qua 5 vòng (Application - Screening Tests - Interview & Assessment - Onboard - Final Review) để tìm ra những gương mặt ưu tú nhất sẽ đồng hành cùng PVN.
Hãy sẵn sàng để tăng tốc và bứt phá đến thành công! PVN sẽ luôn là cánh cửa rộng mở với tất cả những bạn trẻ tài năng, mang trong mình những cá tính độc đáo và bùng nổ nhất!
ĐĂNG KÝ ỨNG TUYỂN NGAY HÔM NAY!!!
▶️ http://piaggiovietnamcareers.com/ ◀️
Cánh cửa để bước chân vào 1 trong 100 môi trường làm việc lý tưởng nhất Việt Nam đang ở ngay trước mắt bạn!
---------------------------------------

ATTRACT

Reputation: Being one of the world's leading two-wheeled motor vehicle manufacturers, we proudly bring our best values to our customers as well as our employees.

Corporate Social Responsibility: People are fundamental for PIAGGIO Vietnam. The company has defined objectives for the growth, promotion and training of human resources, ensuring that employee is rewarded for the contributions they make and that their expectations and goals are met.
We offer various opportunities for growth and advancement and great rewards such as competitive wages, benefits, recognition and so on.
DEVELOP
Individual Development Plan: Each employee prepares his/ her Individual Development Plan based on 70/20/10 learning philosophy, then works closely with HR team to execute & monitor the learning journey.
Talent & Key Resource Development program: Each year, a group of Talent & Key Resource is identified against a clear set of criteria, then enter a holistic Talent Management program consisting of a blended learning & development experience and individualized rewards scheme.
PIAGGIO WAY: A global talent management program - one of the development tools adopted by the Group. The program is highly selective of highly-potential employees in an aim to speed up the professional development.
Rotations/Projects: Competency - based development programs in which employees are rotated to different functions/ departments/ countries away from their daily jobs, joining a cross -functional projects to solve a business wide problems, which in return boost the acquiring new competencies in maximize speed possible.
Integrated Learning & Development Management System: An integrated web-based learning management platform which is accessible to all Group employees aiming at best facilitating endless learning experience in close alignment with the company business strategies.
RETAIN
PIAGGIO always creates opportunities for employees who are qualified and have crucial contributions to be the company's Talent Key Resources. We offer them a wide range of special training programs and competitive incentives. Besides, the company has a Performance Bonus Scheme based on KPIs evaluation.
1. Does the company provide any training programs for newcomers as well as employees?
Yes, the company provides a wide range of training activities for all employees. For newcomers, we provide orientation training program so that they can be aware of the company history, culture, pay roll system, safety policies, and so on. In addition to that, we train our employees in terms of soft skills such as managerial skill, planning skill, project management skill, etc.
2. How many offices does the company have in Vietnam?
PIAGGIO Vietnam is the head quarter of Asia Pacific. We have 2 representative offices in Hanoi and Ho Chi Minh City, and 1 manufacturing factory in Vinh Phuc. The addresses are detailed as follows:
Hanoi Office: Floor 12 - BIDV Tower, 194 Tran Quang Khai, Hoan kiem, Hanoi.
HCM Office: 20th Floor, Saigon Trade Center, 37 Ton Duc Thang, Dist. 1, Ho Chi Minh City, Vietnam
Factory: Lot M, Binh Xuyen Industrial Zone, Huong Canh Town, Vinh Phuc province
3. What is the working time of the company?
At the time being, typical working hours are from 8:00am – 5.15pm, Monday to Friday.
4. Does the company have the rotation and promotion policy for employees?
Yes, the company has the rotation policy for employees who have willing to transfer to other sections and are qualified for the other positions. In terms of promotion policy, PIAGGIO always pay attention to the development of employees, therefore, the company have very clear and fair promotion opportunities for all employees. To do that, there is a division named People and Organizational Development which is responsible for ensuring the promotion activities of the company based on KPI and other forms of evaluation.
5. Does company have bus to pick staff up from Hanoi?
Yes, for employees living in Hanoi, the company provides buses to pick them up every working day. 
6. How many annual leaves do employees have per year?
Each employee has 12 days of annual leaves. Additionally, the company has a summer vacation of 1 week when employees have opportunities to travel but still receive 100% salary; and employees have a chance to use their 3 days of annual leaves in this vacation. 
7. What is working environment at PIAGGIO Vietnam?
PIAGGIO Vietnam is an Italian company, which has European working style. It is very open and flexible that employees can share their ideas, their way of working and discuss with managers without constraint. At PIAGGIO, we always focus on the working results no matter how you operate that.
8. Does company have competitive benefits?
Beside the attractive salary and allowance, the company has a bonus scheme for all employees based on their performance. In addition, at the end of the year, employees will also be awarded the 13th-month salary if they have excellent performance. The performance will be evaluated by KPI system.
9. How many events does company hold per year?
Per year, there are many activities held by the company including Vespa Day, Outing Day, PIAGGIO Football Championship, Year End Party, and so on. These activities are really interesting and create good impressions for not only our employees but also other people in community.
10. Does company have summer tour for employees?
The company has a summer tour in August in which employees have opportunities to relax after working days and build a strong relationship with others. All fees will be paid by the company.   
𝐏𝐈𝐀𝐆𝐆𝐈𝐎 𝐕𝐈𝐄𝐓𝐍𝐀𝐌 - 𝐂𝐀𝐑𝐄𝐄𝐑 𝐒𝐄𝐌𝐈𝐍𝐀𝐑 𝟐𝟎𝟏𝟗!!!


✓ Bạn là sinh viên năm cuối hoặc sắp ra trường?
✓ Bạn có khả năng, có nhiệt huyết, có quyết tâm nhưng còn thiếu kinh nghiệm?
✓ Bạn mong muốn một cơ hội thử sức tại Công ty 100% vốn đầu tư nước ngoài, trực thuộc Tập đoàn toàn cầu với hơn 6500 nhân lực trên khắp thế giới?
👉 ĐÂY CHÍNH LÀ SỰ KIỆN DÀNH CHO BẠN!


𝐂𝐀𝐑𝐄𝐄𝐑 𝐒𝐄𝐌𝐈𝐍𝐀𝐑 𝟐𝟎𝟏𝟗 là hội thảo nghề nghiệp lớn nhất trong năm được tổ chức bởi 𝐏𝐈𝐀𝐆𝐆𝐈𝐎 𝐕𝐈𝐄𝐓𝐍𝐀𝐌 (PVN), với mong muốn đồng hành cùng các bạn sinh viên, đưa các bạn đến gần hơn với doanh nghiệp.

Tại 𝐂𝐀𝐑𝐄𝐄𝐑 𝐒𝐄𝐌𝐈𝐍𝐀𝐑 𝟐𝟎𝟏𝟗, chúng tôi sẽ tặng cho bạn một tấm vé đặc biệt để:

⭐️ Gặp gỡ Ban Lãnh đạo cấp cao của PVN, tìm hiểu về chiến lược phát triển và nhu cầu nhân lực của PVN - Top 5 doanh nghiệp xe máy lớn nhất cả nước.
⭐️ Thảo luận, networking với các diễn giả và hàng trăm bạn sinh viên ưu tú đến từ các trường Đại học top đầu.
⭐️ Cơ hội phỏng vấn trực tiếp với Ban Lãnh đạo PVN ngay tại sự kiện.
⭐️ Cánh cửa đến với "Talent Internship Program 2019" - 6 tháng trải nghiệm môi trường làm việc chuyên nghiệp tại PVN (Top 100 Vietnam Best Places To Work 2013 - 2018).
⭐️ Lắng nghe những chia sẻ về định hướng nghề nghiệp đến từ chuyên gia headhunter hàng đầu.
⭐️ Và vô vàn những phần quà hấp dẫn, độc đáo đang chờ bạn khám phá trong suốt chương trình.

Đừng đợi đến khi tốt nghiệp mới bắt đầu khởi động, 𝐏𝐈𝐀𝐆𝐆𝐈𝐎 𝐕𝐈𝐄𝐓𝐍𝐀𝐌 - 𝐂𝐀𝐑𝐄𝐄𝐑 𝐒𝐄𝐌𝐈𝐍𝐀𝐑 𝟐𝟎𝟏𝟗 đã sẵn sàng để cùng bạn vạch ra lộ trình nghề nghiệp, và tăng tốc, bứt phá đến thành công!
Hãy hiện thực hóa giấc mơ của mình NGAY HÔM NAY bằng cách ĐĂNG KÝ tại: http://piaggiovietnamcareers.hmmedia.vn/  hoặc ĐĂNG KÝ NHANH qua form: https://forms.gle/XDZadxNJy2ChuKWHA
--------------𝐏𝐈𝐀𝐆𝐆𝐈𝐎 𝐕𝐈𝐄𝐓𝐍𝐀𝐌 - 𝐂𝐀𝐑𝐄𝐄𝐑 𝐒𝐄𝐌𝐈𝐍𝐀𝐑 𝟐𝟎𝟏𝟗 --------------

• Thời gian: 13h30 - 16h30, ngày 23/04/2019.
• Địa điểm: Tầng 3, Star Galaxy - 87 Láng Hạ, Ba Đình, Hà Nội.
• Website: http://piaggiovietnamcareers.hmmedia.vn/ • Event: https://www.facebook.com/events/521352598396526/
Inside review about PIAGGIO VIETNAM
HR International Generalist

-

1465895455

Pros: International working environment, friendly colleagues, challenging.

Account Payable

-

1465895455

Pros: Professional working environment Zeal and Ambitious Person